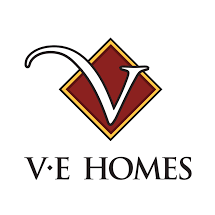 We here at Hammond Kitchens & Bath have created many exquisite kitchen and bath designs for Vintage Estate Homes here in Brevard and surrounding areas. It gives us great pleasure to work with such a prestigious home builder such as VE Homes. There's something unique about the way a builder combines all the familiar components and creates something more than just a house. That is what VE Homes strives for – to make the ordinary into something extraordinary…the home of your dreams.
VE Homes understands what your dream home means to you, so they only use the best quality materials and demand the best workmanship from their partners.  That's why they choose Hammond Kitchens & Bath as a partner to design and install the kitchen & bath in your new dream home.  We at Hammond Kitchens & Bath strive to deliver only the best for our customers, and VE Homes knows it, so they can rely on us to make sure you love every bit of your new VE Home, especially the kitchen and baths.
We love working with LifeStyle Homes because they only want to use the top notch materials and expert installation professionals like us here at Hammond Kitchens & Bath.  They take their responsibility to their customers very seriously, just like us, so they can always rest easily knowing that we have their back with every kitchen and bathroom design we install for them.  With a combined 70+ years of experience, you cannot go wrong with Hammond Kitchens & Bath and VE Homes working together to build you the home of your dreams.
September 20, 2020
Here we have another beautiful new home by our partner Vintage Estate Homes.  We are very proud of the kitchen and bathroom cabinets and countertop installation by us in this beautiful model home for them.  We take pride in every job we do, but we really enjoy working with our partners like Vintage Estate Homes because they only use the best quality materials and demand the best workmanship from their partners.  They trust us to deliver the highest quality cabinets and contertops for every job we work together on.  They can also rest assured that the installation and support is always top of the line with Hammond Kitchens & Bath, so their customers are always satisfied. If you are looking for the best kitchen cabinets and countertops in Melbourne FL you have found it here at Hammond Kitchens & Bath. This is just one example of the amazing cabinets and
[…]
August 29, 2020
This exquisite kitchen and bathroom installation in Melbourne we did for Vintage Estate Homes is beautiful. Very clean and inviting with the white cabinets in the kitchen and real stone countertops throughout. Vintage Estate Homes VE Homes understands what your dream home means to you, so they only use the best quality materials and demand the best workmanship from their partners.  That's why they choose Hammond Kitchens & Bath as a partner to design and install the kitchen & bath in your new dream home.  We at Hammond Kitchens & Bath strive to deliver only the best for our customers, and VE Homes knows it, so they can rely on us to make sure you love every bit of your new VE Home, especially the kitchen and baths. If you are looking for the best kitchen cabinets and countertops in Melbourne FL you have found it here at Hammond Kitchens
[…]